Casual Sunbed Card : pay on as use basis. $10 per session and on your 6th session you receive a 50% discount.
Discounted Sunbed Card : excellent value for a 10 session card which includes a complimentary sachet of tan accelerator/moisturiser, only $85, save more than $20..
What makes AMADEUS stand out from other Sunbed operators.
We provide a free detailed skin assessment with a detailed introduction to tanning. Ensuring you tan smartly and get the best results.
Eye protection goggles provided as standard service.
The Sunbeds are hygienically cleaned by us every time, so to ensure you consistent cleanliness and peace of mind.
We use only the best tubes "Goldarium plus" or "Bollarium plus", and replaced to the manufacturers specifications.
We meet and exceed Ministry of Health guidelines.
We Guarantee you results.
Why do people use our Sunbeds?
To achieve a smart tan in a controlled environment
To condition their skin before going outdoors in Summer.
To reduce the effects of arthritis
To reduce the effects of eczema and psoriasis
To help prevent osteoporosis, thinning of the bones (sunlight produces vitamin D)
It makes you feel good, particularly in winter.
Relaxation
What should you look for when you wish to use a Sunbed?
What does the operator offer you?
Are the Sunbeds hygienically clean?
Do you have to clean the Sunbeds yourself?
What tubes do they use and have the tubes been maintained? (replaced to manufacturers specifications, some tubes only last 300 hrs)
Do they meet the Ministry of Health guidelines?
Are you gaining results as you might expect for your skin type?
Do they offer you professional advice?
How to achieve the best results.

Tan Accelerators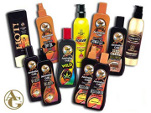 We recommend the use of Austalian Gold Tan Accelerators to achieve the maximum results from your sunbed sessions.
Tan Accelerators offer moisterisers for the skin and assist stimulate the melanin in the skin to produce a excellent result. For more information on the full range of Australian Gold Products we stock.